The Club
The Club System (Choose Coil/Heater) by The Club
Made in a small family shop in the Southeast United States, each system is unique.  This is a true conversation piece of functional art!  The Club is 24 inches long and includes carb hole.  The TKO is also glass lined.  Each set may contain different parts and of course will offer an individual mixture of woods and beauty only nature can provide.  
This particular set includes:
18" Club Pipe with integrated ash catcher filter system.  (Longer lengths may be available as well.  Email sales@vgoodiez.com for details.  
Integrated PID Controller with US Standard Five Pin XLR Connection w/included Injector Stand 
Handmade bowl with glass filter
Coil Handle
Two Storage jars and base
Tools
*Coil and Injector Head sold separately!  If you want those parts you would need to purchase the following or select a preconfigured assembly which includes the 20mm coil, ruby beads and heater assembly of your choice.  
20mm Coil - most of these Club Kits will come with a coil handle so just need the bare coil.  
A satisfying and sophisticated way to consume, this is the one that will make your friends jealous!
220V Coils and Worldwide Power Cords Available.  Please specify needs in the comments.  
All kits are burned off and set up prior to shipping unless otherwise requested.    This particular item does require you to attach the stand to the base with two Philips head screws.  It would not be safe or cost effective to try to ship this fully assembled.  
May not be available for international shipping.  Email sales@vgoodiez.com if you are outside the US and interested in this product.  
SAFETY NOTICE
Like with any exposed/covered coil system there are risks of burning and fire.  Do not leave unattended and pay special care handling equipment.  People with long hair should keep it pulled back while using the equipment and care should be taken wearing loose/baggy clothing.  Obviously keep away from pets and children.  Common sense goes a long way here.  If you are clumsy, prone to getting burned or just not confident handling high powered, high temperature equipment, this is NOT for you.  Holler at us at sales@vgoodiez.com and we can help figure out something more your speed.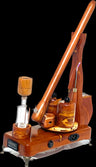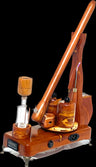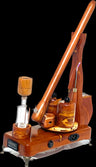 The Club System (Choose Coil/Heater) by The Club